1966 Don Drysdale Topps Card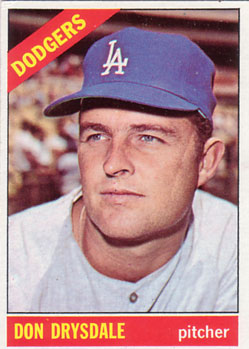 I've wanted a Don Drysdale of this particular year for as long as I can remember. I like the card design they used in 1966. I remember Don from his appearance on The Brady Bunch.
When I was about 9, our neighbors to the west in Redford, Michigan (they moved to suburban Houston while we lived next door to them) had a collection of baseball cards. The husband showed me some of the 1966 cards he had, and ever since, this year has been my favorite design.